Ben D. Kennedy
author of
"Maid of Heaven"
conjectures on the celebration of Christmas by the Maid of Orleans, he writes...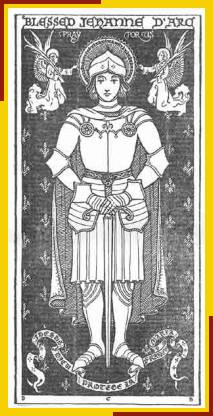 One can only wonder about how Saint Joan of Arc celebrated Christmas as there is unfortunately nothing in the historic records however there is little doubt that Christmas would have been a very special time for Joan given her intense love and devotion to God. While Joan was growing up in the small town of Domremy she most likely would have attended at least one worship service and possible more on Christmas day at the little church of St. Remy located just next door to her house.
more...
Thanks and a tip of the beret to Ben Kennedy.
Jhesu+Marie,
Brantigny